2012 Knockout of the Year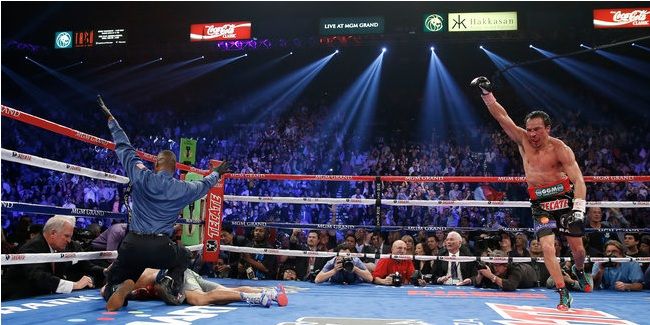 It was the fourth fight of the epic rivalry between Manny Pacquiao and Juan Manuel Marquez. During the build-up of the fight both fighters promised a knockout victory and will not let the judges decide the faith of the fight as what happened to the previous three.
Marquez dropped Pacquiao in the third round with a looping right hand to the head and in the fifth round Pacquiao broke Marquez nose and few seconds later he threw a straight left that landed to the chin and made Marquez reeling and his gloves touches the mat for a knockdown.
The devastating knockout came in the six round, as the ten seconds warning sounded, Pacquiao tried to finished strong before the round ends and then the knockout came. He caught a short right to the chin and dropped face down in front of his trainer Freddie Roach and the rest of his team.
Jim Lampley, Larry Merchant and Roy Jones Jr., who called the fight for HBO, was in awe about what just happened.
Roy Jones Jr.: Ohhhhhh!
Jim Lampley: That's another knockdown.
Roy Jones Jr.: His not getting up Jim. His not getting up Jim.
Jim Lampley: He can't get up.
Roy Jones Jr.: His not getting up Jim.
(Referee Kenny Bayless ordered Marquez to stay in a neutral corner. He knee down to checked on Pacquiao and then waved his both hands signalling the end of the fight.)
Jim Lampley: No! His been knockout.
(Marquez run across the ring, jumped on the ropes and raised his hands in V and then being lifted for the victory ride.)
Jim Lampley: A sensational right hand knockout by a bloody Juan Manuel Marquez and that is the keystone moment of his career.
Manny Pacquiao is still face down.
Larry Merchant: And maybe a 5th fight between Marquez and Pacquiao.
(Ringside physicians rolled Pacquiao facing up and he is still unconscious.)
Jim Lampley: What a victory by Juan Manuel Marquez with blood streaming out of both nostrils and his mouth. With his legs wobbly from hard left hand shots by Manny Pacquiao. He scores a colossol right hand that knock Pacquiao cold.
Larry Merchant: And we have to ask will Manny Pacquiao be ever seen in the ring again?
Jim Lampley: Correct. Those are the two possibilities. A 5th fight or a retirement.
What an amazing fight. What an amazing, stunning knockout performance by Marquez.
(Pacquiao starting to stand up with his own power and sat on a stool and still being attended by the physicians.)
Jim Lampley: So, the tsunami that hit the Philippines is replicated here by the tsunami of Juan Marquez right hand. This was in the last 2 seconds of the round.
HBO replayed the fight a week later and Merchant called the "punch that everybody saw except Manny Pacquiao."
Follow us on twitter @KnockOutDigest and like us on our Facebook.com/KnockoutDigestcom page.